Providing Full Lawn and Landscape Services to the Sheridan area of Wyoming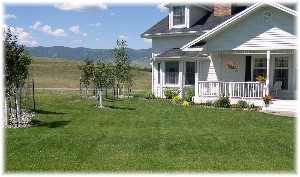 Sheridan Lawn and Landscaping, LLC is a licensed Landscape Contractor in the state of Wyoming.
We Provide all aspects of Landscaping such as; Tree Planting, Hardscapes, Landscape Designs, Full Landscape Contractor Installation, Sprinkler Irrigation, Large Area Mowing Services, Property Maintenance for Residential and Commercial grounds all year with Snow Removal Services.
Complete List of Services;
We can provide landscape designs
Property Maintenance, Large Area Mowing, Irrigation Repair / Maintenance and Snow Removal.
Full landscape installation.
Residential and Commercial, New and existing Landscape projects.
Ponds, waterfalls and fountains.
Irrigation systems, installation, sprinkler system repair and design.
Hardscapes such as; Retaining walls, decorative block or brick patios, sidewalks, driveways and other stone work.
Edging, all types and our exclusive real brick or stone edging, mow over, no trimming!
Tree and Plant Selection lists for our local area, also deer proof plants and tree lists.
Tree Pruning, Tree Removal, Tree Planting, plus additional Tree Care.
Low voltage lighting for your landscaping or outdoor property.
We also provide full property maintenance packaged services, which include but not limited to; Large area lawn mowing, fertilizing, aeration, weed control, leaf clean-up, pruning, irrigation maintenance, and snow removal.
Please browse our Google +1 Portfolio Gallery Page to see photos of landscape jobs we have worked on, this may give you some ideas for your own landscaping project.
Service Area
Sheridan Lawn and Landscaping, LLC service area is Northern Wyoming, specifically; Sheridan County and Johnson County Wyoming, including Sheridan, Buffalo, Ranchester, Dayton, Bighorn, and Ucross Area.